Should we switch off gas?
21 June 2023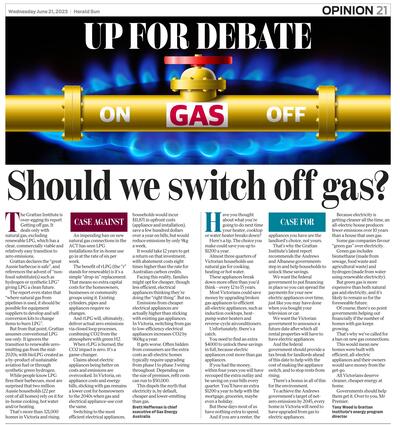 THE Grattan Institute is over egging its report Getting off gas. It only deals with natural gas, excluding renewable LPG, which has a clear, commercially viable and relatively easy transition to zero emissions.
Grattan declares the "great Aussie BBQ is safe" and references the advent of "non-fossil substitute(s) such as hydrogen or synthetic LPG" giving LPG a clean future. The report even states "where natural gas from pipelines is used, it should be possible for equipment suppliers to develop and sell conversion kits to change items to burn LPG".
But from that point, Grattan assumes conventional LPG-use only. It ignores the transition to renewable zero-emitting gas from the mid-2020s, with bioLPG created as a by-product of sustainable aviation fuel or through synthetic green hydrogen.
While people know LPG fires their BBQs, most are surprised that 2 million Aussie households (22% of all homes) rely on it for in-home cooking, hot water and/or heating. That's over 321,000 homes across Victoria and rising.
An impending ban on new natural gas connections in the ACT has seen LPG installations for in-home use go in at the rate of six per week.
The benefit of rLPG is it's a simple 'drop-in' replacement. That means no extra capital costs to homeowners, businesses or community groups using it. Existing cylinders, pipes and appliances require no changes.
And rLPG will, ultimately, deliver actual zero emissions via closed loop processes, combining CO2 from the atmosphere with green H2. When rLPG is burned, the CO2 impact is zero. It's a game-changer.
Claims about electric appliances being better on costs and emissions are overcooked. In Victoria, on appliance costs and energy bills, sticking with gas remains lower cost for homeowners to the 2040s, when gas and electrical appliance-use cost the same.
Switching to the most efficient electrical appliances, households would incur $11,871 in upfront costs (appliance and installation), save a few hundred dollars over a year on bills, but would only reduce emissions by 9kg a week.
It would take 12 years to get a return on that investment, with abatement costing eight-times higher than the rate for Australian carbon credits.
Facing this reality, families might opt for cheaper, though less efficient, electrical appliances thinking they're doing the 'right thing'. But no.
Emissions from cheaper electrical appliances are actually higher than sticking with existing gas appliances. In Victoria, switching from gas to low-efficiency electrical appliances increases CO2 by 960kg a year.
It gets worse. What is often hidden from consumers are the extra costs as all-electric homes typically require upgrading from Phase 1 to Phase 3 wiring throughout. Depending on the size of the premises, these refit costs can run to $50,000 per dwelling.
This dispels the myth that electricity is, by default, cheaper and lower emitting than gas.
Published in the Herald Sun newspaper on 21 June 2023.
---
Next Latest News:
29/6/2023 Electricity is not cheaper and cleaner than gas. Here's why
Previous Latest News:
19/6/2023 Not all gases are the same, even Grattan Institute says so
---