Renewable gases huge boost for regional farmers
27 September 2023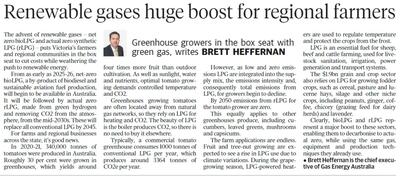 THE advent of renewable gases – net zero bioLPG and actual zero synthetic LPG (rLPG) – puts Victoria's farmers and regional communities in the box seat to cut costs while weathering the push to renewable energy.
From as early as 2025-26, net-zero bioLPG, a by-product of biodiesel and sustainable aviation fuel production, will begin to be available in Australia. It will be followed by actual zero rLPG, made from green hydrogen and removing CO2 from the atmosphere, from the mid-2030s. These will replace all conventional LPG by 2045.
For farms and regional businesses across the state, it's good news.
In 2020-21, 340,000 tonnes of tomatoes were produced in Australia. Roughly 30 per cent were grown in greenhouses, which yields around four times more fruit than outdoor cultivation. As well as sunlight, water and nutrients, optimal tomato growing demands controlled temperature and CO2.
Greenhouses growing tomatoes are often located away from natural gas networks, so they rely on LPG for heating and CO2. The beauty of LPG is the boiler produces CO2, so there is no need to buy it elsewhere.
Typically, a commercial tomato greenhouse consumes 1000 tonnes of conventional LPG per year, which produces around 3364 tonnes of CO2e per year.
However, as low and zero emissions LPG are integrated into the supply mix, the emissions intensity and, consequently total emissions from LPG, for growers begin to decline.
By 2050 emissions from rLPG for the tomato grower are zero. This equally applies to other greenhouses produce, including cucumbers, leaved greens, mushrooms and capsicums.
The farm applications are endless. Fruit and tree-nut growing are expected to see a rise in LPG use due to climate variations. During the grape-growing season, LPG-powered heaters are used to regulate temperature and protect the crops from the frost.
LPG is an essential fuel for sheep, beef and cattle farming, used for livestock sanitation, irrigation, power generation and transport systems.
The $1.9 billion grain and crop sector also relies on LPG for growing fodder crops, like cereal, pasture and lucerne hays, silage and other niche crops, including peanuts, ginger, coffee, chicory (grazing feed for dairy herds) and lavender.
Clearly, bioLPG and rLPG represent a major boost to these sectors, enabling them to decarbonise to actual zero, while using the same gas, equipment and production techniques they already use.
Published in The Weekly Times newspaper on 27 September 2023.
---
Next Latest News:
27/9/2023 World Maritime Day: Ships geared for gas
Previous Latest News:
11/9/2023 Gas pumps $121 billion into national economy
---