Wilderness confusion
5 April 2023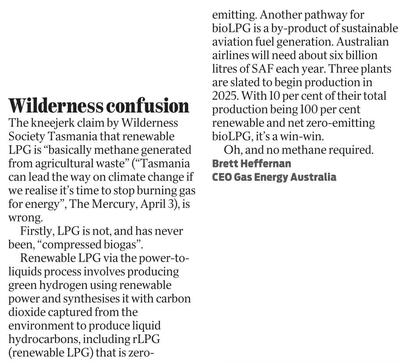 The knee-jerk claim by Wilderness Society Tasmania that renewable LPG is "basically methane generated from agricultural waste" (Tasmania can lead the way on climate change if we realise it's time to stop burning gas for energy, The Mercury, 3/4/23), is wrong.
Firstly, LPG is not, and has never been, "compressed biogas". Renewable LPG via the power-to-liquids process involves producing green hydrogen using renewable power and synthesizes it with carbon dioxide captured from the environment to produce liquid hydrocarbons, including rLPG that is zero-emitting.
Another pathway for bioLPG is a by-product of Sustainable Aviation Fuel generation. Australian airlines will need around 6 billion litres of SAF each year. Three plants are slated to begin production in 2025. With 10% of their total production being 100% renewable and net zero-emitting bioLPG, it's a win-win.
Oh, and no methane required.
Brett Heffernan, CEO, Gas Energy Australia
Published in The Mercury newspaper on 5 April 2023.
---
Next Latest News:
10/4/2023 Renewable gas is the answer to power Australia's energy future
Previous Latest News:
13/3/2023 LPG charts path to zero emissions across Victoria by 2045
---