EVOL LNG secures Doray Minerals' Deflector LNG contract
9 March 2016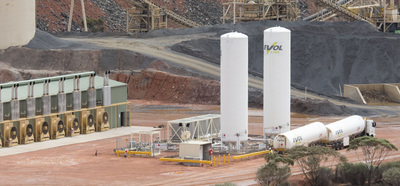 Kleenheat's EVOL LNG has secured a contract to supply Doray Minerals Limited's (ASX: DRM) Deflector Gold-Copper project with approximately 4,560 tonnes of Liquefied Natural Gas ("LNG") per annum from its Kwinana LN    plant commencing in April 2016.
The  Deflector  project, located 160km  east  of  Geraldton  in  the  Mid  West Region of Western Australia, is a greenfield project with a purpose-built dual fuelld power station currently under construction.
The dual fuelled power station will be built, owned and operated by Kalgoorlie Power Systems (KPS), a subsidiary of Pacific Energy Ltd (ASX: PEA), and will be fuelled by 30 per cen diesel and 70 per cent  natural gas. 
EVOL LNG's Business Manager, Nick Rea said the company was pleased to have secured the contract, in particular during a period of historically low energy prices.
"Entering into  an  agreement with  Doray during  a period  of historically  low  energy   prices demonstrates  our  resilience  in a  highly competitive market,  but  the  team's  also  been  pretty innovative to bring costs down," he said.
"Among other key innovations, the on-site LNG storage and vaporisation facility will use a unique LNG  vaporisation  system,  where waste heat  from KPS's  power station will  be  recovered  to vaporise LNG instead of traditional ambient air fin vaporisers, making  the solution more cost competitive, " 
"By using LNG at Deflector, Doray will reduce its exposure to imported diesel costs, avert more than  3,800  tonnes  (17  per  cent)  of  carbon  emissions  per ye r  compared  to  diesel,  which  is equivalent to  removing  more  than  1,100 cars  from the  road, and  support  jobs  in  the  local production and distribution of LNG," he said.
Doray Minerals Managing Director, Allan Kelly said the use of NG would provide the Deflector project with stable power and low energy costs throughout the init al life of the mine.
View the PDF here.
File downloads
---
Next News Archive:
9/3/2016 Australians should enjoy the benefits of cleaner cheaper gas
Previous News Archive:
2/3/2016 Fuel summit should look to gas fuel diversity for competition
---